Meal Delivery
Who is Eligible?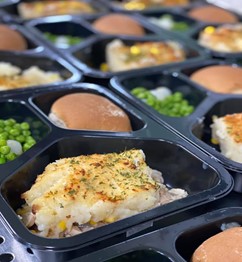 Our home meal delivery is available for residents of Bay Village, North Olmsted, Olmsted Falls, Olmsted Township and Westlake.
Eligible recipients are individuals unable to shop for or prepare meals safely by themselves. This includes the elderly, and individuals who are temporarily ill, convalescing, disabled or home-bound.
Our Meal Delivery Service
We deliver both a hot entrée and a cold fare weekdays between 11 am and 12 pm, except on major holidays. Recipients receive delivery of both daily meals in person Monday - Friday.
We realize your schedule may occasionally change due to travel or doctor's appointments. With a minimum of 24-hours notice, we may be able to accommodate a temporary change. Unfortunately, we cannot respond to email quickly enough, so please call 440‑871‑2551 with schedule changes.
Our meal service program delivers more than a meal; we offer caring contact, security, and peace of mind. The benefit of our program reaches beyond the recipients and families we serve.
Special Dietary Needs
We are happy to accommodate your doctor's orders for special dietary meals. These meals are prepared for us by UH St. John's Medical Center and delivered by our caring volunteers.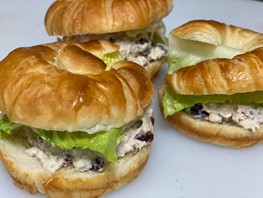 ---
Interested in Getting Started?
Simply call 440‑871‑2551 and we will answer any questions you may have. If you feel that our services meet your needs then we will begin our intake process which consists of delivery instructions, emergency contact, dietary needs, and billing information. We will explain policies and billing, along with scheduling the meal deliveries.
Recipients say . . .
"Absolutely fantastic Please send more!!!" ~ Eliza R.
"Kudos to the menu planner, cooks and drivers who made my days very reassuring and satisfying.' You are the best! Thank you for all the volunteers who make it all possible!" ~ Ruby V.
"Thank you all to the Meals on Wheels gang. I'm sure all the people in the program are as grateful as I am for the time and effort you put into the program." ~ Bob R.
"With Meals on Wheels, I've been able to stay in the house I've been in for decades and has saved my independence and I'm truly grateful." ~ Eleanor G.
"Thank you for the delicious meals and all of the wonderful goodies!" ~ Linda & Ronald C.
---
What's the Cost?
Westlake Meals on Wheels is a private-pay program operating without any government subsidy. The weekly meal delivery charge is $45 ($9 per day for one hot and one cold meal). Less than fast-food! We charge by the actual number of meal delivery days.
---
Download Information